Luminous. Dramatic. Joyful.
Mitch Caster is a Colorado-based fine artist and life drawing instructor. In his oil paintings, pastels, and drawings, his subjects come to life with exceptional use of light and shadows, and extraordinary depth.
"I've been painting and drawing for as long as I can remember. After many years as a news and courtroom artist, I covered some of the nation's most notorious trials, and now want to concentrate on showcasing the positive aspects of the world. I love capturing bits and pieces of the good that is around me."
Recent and Upcoming Special Exhibitions
Mountain Oyster Club
Tucson, Arizona
November 20 
Over 200 emerging and nationally renowned artists will exhibit their best, new work in the beautiful, historic setting of the Pond Mansion, home to the Mountain Oyster Club. Join us for cocktails and hors d'oeuvres while viewing artwork by the finest traditional and contemporary Western Artists.
See the show here.
Image: Pow Wow Dancer, 10 x 8 – Graphite – SOLD 
94th Grand National Exhibition
Salmagundi Club
New York City, New York
November 7 – 18  (Now Closed)
The American Artists Professional League (AAPL) is pleased to announce the 94th consecutive Grand National Exhibition at the Salmagundi Club of New York. The in-person Exhibition and virtual show honors the finest in representational and traditional realism art.
Image: Egret's Water Dance, 20 x 20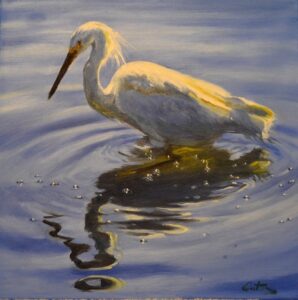 Oil Painters of America 2022 Western Regional Exhibition 
Southwest Gallery
Dallas, Texas
September 10 – October 1  (Now Closed)
The show assembles the finest display of representational oil paintings in the western United States. The focus in the jurying process was to select paintings that show the highest quality in draftsmanship, color, and composition, emphasizing a diversity in representational style and subject matter.
Image: Cactus in Bloom, 20 x 30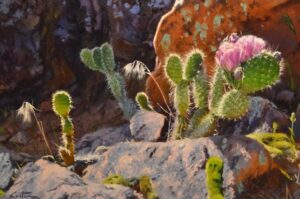 Best of America National Juried Exhibition
Wilcox Gallery
Jackson, Wyoming
September 8 – October 8 (Now Closed)
Celebrating its 32nd "Best of America" National Juried Exhibition, the National Oil & Acrylic Painters' Society (NOAPS) invited painters from all across North America as well as International Artists, and honors the very best in oil and acrylic painting.
Image: Calling Out from the Shallows, Eh, 16 x 20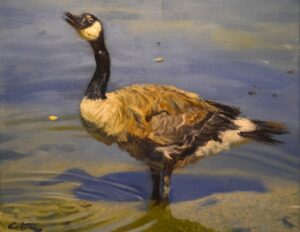 The Pastel Society of Colorado Members Show
Longmont, Colorado
August 12 – October 7 (Now Closed)

This show will display the wide-ranging perspectives artists have  in their pastel art journey.
Image: Ballerina from Above (from Sleeping Beauty) 25 x 18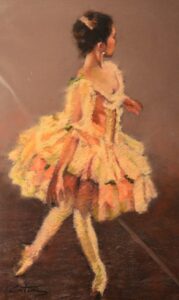 Loveland Museum
Loveland, Colorado
Show: April 23 – May 22 (Now Closed)

The Colorado Governor's Art Show & Sale is one of the largest fine art shows to exclusively feature Colorado artists, and is endorsed by the Governor of Colorado.  It introduces the public to 60 of Colorado's top fine artists. The show is truly "Art with Heart," as it benefits Loveland and Thompson Valley Rotary Clubs' charitable projects and causes.
Image: Amaizing Day, 30 x 20 – SOLD