Luminous. Dramatic. Joyful.
Mitch Caster is a Colorado-based fine artist and life drawing instructor. In his oil paintings, pastels, and drawings, his subjects come to life with exceptional use of light and shadows, and extraordinary depth.
"I've been painting and drawing for as long as I can remember. After many years as a news and courtroom artist, I covered some of the nation's most notorious trials, and now want to concentrate on showcasing the positive aspects of the world. I love capturing bits and pieces of the good that is around me."
Loveland Museum
Loveland, Colorado
May 6 – June 11
Opening Night Gala, May 5
In-Person Demonstration, June 3

The Colorado Governor's Art Show & Sale is one of the largest fine art shows to exclusively feature Colorado artists, and is endorsed by the Governor of Colorado.  It introduces the public to 62 of Colorado's top fine artists. The show is truly "Art with Heart," as it benefits Loveland and Thompson Valley Rotary Clubs' charitable projects and causes.
Image: Rehearsal Notes, 16 x 20 
Curtis Center for the Arts
Greenwood Village, Colorado
May 12 – July 1
The Pastel Society of Colorado sponsors its highly competitive Mile High International Pastel Exhibition every year, and this year exceptional pastel paintings were selected by a nationally-recognized juror.
Image: Folklorico, 25 x 15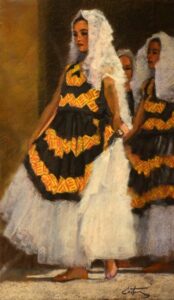 Arvada Center, Main Gallery
Arvada, Colorado
June 8 – August 27
Opening Reception: June 8
In this large-scale group exhibition, the Arvada Center Galleries hosts works from contemporary Colorado artists that challenge preconceived definitions of drawing and from artists who celebrate the traditional roots of drawing.
Image: The Moment, 25 x 19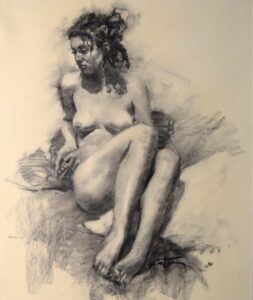 Gilpin Arts Gallery
Central City, Colorado
June 10 – August 19
Hosted by the Gilpin County Arts Association since 1947, this longest continuously running juried show in Colorado takes place in beautiful Central City, Colorado.
Image: Sarah, 10 x 8