Luminous. Dramatic. Joyful.
Mitch Caster is a Colorado-based fine artist and life drawing instructor. In his oil paintings, pastels, and drawings, his subjects come to life with exceptional use of light and shadows, and extraordinary depth.
"I've been painting and drawing for as long as I can remember. After many years as a news and courtroom artist, I covered some of the nation's most notorious trials, and now want to concentrate on showcasing the positive aspects of the world. I love capturing bits and pieces of the good that is around me."
Recent and Upcoming Special Exhibitions
Stanton Gallery, Town Hall Arts Center
2450 West Main, Littleton, Colorado
July 12 – September 11 
This show is sponsored by the Littleton Fine Arts Guild, and will be showcased during Western Welcome Week – August 12 – 21. As Juror, I will display one of my paintings in the show.
Image: Cowboy Reverie, 16 x 10
Gilpin County Arts Association
117 Eureka Street
Central City, Colorado
Show: June 11-Aug 20
This show celebrates its 75th anniversary this year, and is the oldest juried art show this side of the Mississippi.  It consistently provides the space and opportunity for some of the nation's top artists to showcase their work over a diversity of mediums.
Image: Prismatic Mallard, 12 x 24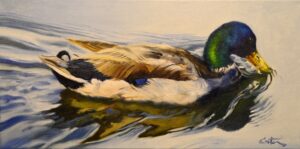 6060 S. Quebec St.
Greenwood Village, Colorado
July 9 – August 27
This pastel painting will be on display at the Greenwood Village City Hall, courtesy of the Curtis Center for the Arts.
Image: Swan Maidens from Above, 19 x 25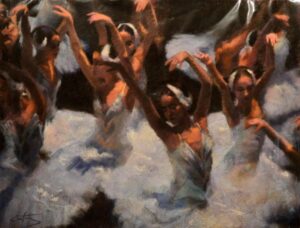 Loveland Museum
503 N. Lincoln Ave.
Loveland, Colorado
Show: April 23 – May 22 (Now Closed)

The Colorado Governor's Art Show & Sale is one of the largest fine art shows to exclusively feature Colorado artists, and is endorsed by the Governor of Colorado.  It introduces the public to 60 of Colorado's top fine artists. The show is truly "Art with Heart," as it benefits Loveland and Thompson Valley Rotary Clubs' charitable projects and causes.
Image: Amaizing Day, 30 x 20 – SOLD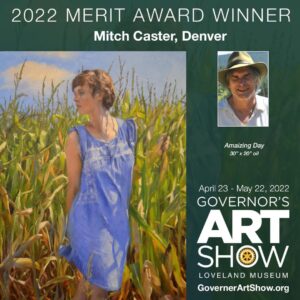 18th National Exhibition of the American Society of Marine Artists
Chesapeake Bay Maritime Museum
St. Michaels, Maryland
October 22, 2021 – February 27, 2022 (Now Closed) 
Since its founding more than 40 years ago, the American Society of Marine Artists (ASMA) has presented its prestigious National Exhibition every three years in museums across the country, highlighting the works of artists representing the best in American marine art by juried competition.
Image: Salt Air, 24 x 16