Luminous. Dramatic. Joyful.
Fine artist Mitch Caster paints oils in an eye-catching, realistic style. His subjects come to life with exceptional use of light and shadows, and extraordinary depth.
"I've been painting and drawing for as long as I can remember. After many years as a news and courtroom artist, I covered some of the nation's most notorious trials, and now want to concentrate on showcasing the positive aspects of the world. I love capturing bits and pieces of the good that is around me."
Recent and Upcoming Special Exhibitions
Loveland Museum
503 N. Lincoln Ave.
Loveland, Colorado
Show: April 23 – May 22
Artist Meet & Greet – May 14, 2 – 4 p.m.
The Colorado Governor's Art Show & Sale is one of the largest fine art shows to exclusively feature Colorado artists, and is endorsed by the Governor of Colorado.  It introduces the public to 60 of Colorado's top fine artists. The show is truly "Art with Heart," as it benefits Loveland and Thompson Valley Rotary Clubs' charitable projects and causes.
Image: Date with Nature, 14 x 11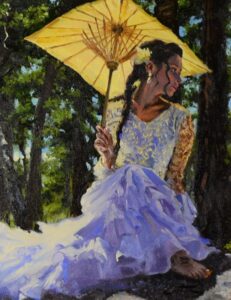 18th Annual Mile High International Pastel Exhibition 
Gilpin County Arts Association
117 Eureka Street
Central City, Colorado
Opening Reception: April 9, 1-4 p.m.
Show: April 9-May 21
Pastel is pure pigment, and is the most stable and permanent of all painting media. Pastel (often confused with chalk) was introduced by Leonardo da Vinci as a highlighting technique for drawing, and emerged as a major force in 18th-century portraiture. Many great artists, including Edgar Degas, Mary Cassatt, William Merritt Chase, Childe Hassam, Georgia O'Keeffe and James McNeil Whistler, feature pastels among their most important works.
This exhibition is a pastels-only show, sponsored by the Pastel Society of Colorado.
Image: Toe Shoes, 25 x 17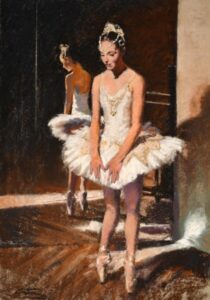 18th National Exhibition of the American Society of Marine Artists
Chesapeake Bay Maritime Museum
St. Michaels, Maryland
October 22, 2021 – February 27, 2022 (Now Closed) 
Since its founding more than 40 years ago, the American Society of Marine Artists (ASMA) has presented its prestigious National Exhibition every three years in museums across the country, highlighting the works of artists representing the best in American marine art by juried competition.
Image: Salt Air, 24 x 16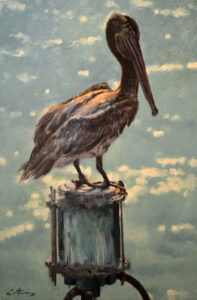 Oil Painters of America 2021 Western Regional Exhibition
Mary R. Koch Arts Center (Mark Arts)
Wichita, Kansas
October 15 – November 27, 2021 (Now Closed)
The show assembles the finest display of representational oil paintings in the western United States. The focus in the jurying process was to select paintings that show the highest quality in draftsmanship, color, and composition, emphasizing a diversity in representational style and subject matter.
Image: Adobe Dusk, 18 x 24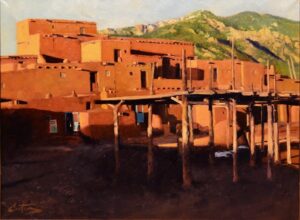 National Oil and Acrylic Painters' Society Best of America Juried Exhibition
Dana Gallery
Missoula, Montana
September 10 – October 9 (Now Closed) 
The National Oil & Acrylic Painters' Society (NOAPS) honors the very best in oil and acrylic painting. NOAPS has been showcasing the talents of oil and acrylic painters since 1991.
Image: Adobe Work, 16 x 24