Mitch Caster is a Colorado-based fine artist who loves painting nature, people, and many other subjects. After many years as a news and courtroom artist, covering some of the nation's most notorious trials, he now concentrates on showcasing the positive aspects of the world. He wants to bring joy to viewers. Some of his favorite subjects include animals, landscapes, western scenes, dancers, seascapes, lighthouses, and more.
One of his specialties over the years has been figurative work. He paints the human form in all walks of life, drawing on his appreciation of all cultures to pass on their uniqueness and history to future generations and other cultures.
Often characterized by dramatic use of light and shadows, Mitch's award-winning artwork is on exhibit in collections throughout the world, and has been featured in national art magazines.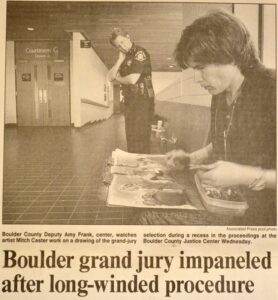 A lifelong artist, Caster has been painting as a fine artist full-time since 1990. A native of Oakland, California, he has lived in Denver since he was a teenager. Caster attended the Rocky Mountain School of Art on scholarship at age 16, and studied commercial art at Colorado Mountain College.
He has extensive experience as a news and courtroom artist, including positions with KUSA (ABC/NBC affiliate). His work has appeared on all major networks and on international broadcasts, and has included the Oklahoma City bombing trial, Jon Benet Ramsey grand jury hearing, Matthew Shephard murder trial, Michael Jackson plagiarism trial and two Perry Mason movies.
In addition to creating art, he is an instructor for the Art Students League of Denver. He has also taught at the American Museum of Western Art, Denver Museum of Nature and Science, Denver Botanic Gardens, The Gathering Place, and for faculty programs at several school districts in the Denver area.
In his spare time, he enjoys hiking, travel and ballroom dance.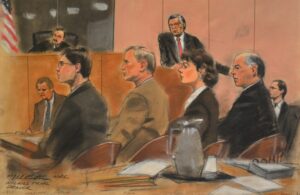 Caster is a signature member of:
Oil Painters of America, and National Oil and Acrylic Painters' Society: Awards of Excellence
Colorado Governor's Art Show and Sale:  Award of Merit
Mile High International Pastel Exhibition: Award of Excellence
Rocky Mountain Emmy Awards: five awards in art direction
Broadcast Designers Association
Denver Press Club